These Orange Pecan Cinnamon rolls are the perfect way to kick off your day! Gooey, fluffy with a slight crunch and warm orange icing.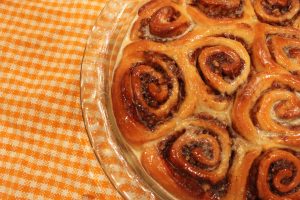 Cinnamon rolls have always been the way to start a weekend or any lazy morning. There's nothing like opening a tube of Pillsbury cinnamon rolls and waiting to top with that yummy icing. I decided to put my own homemade spin on them and add in some fresh orange zest and pecans!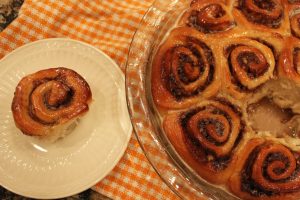 These homemade cinnamon rolls are fun to make on a weekend when you have time time to be in the kitchen. You can also make some dough ahead so you can easily pop them in the oven in the mornings.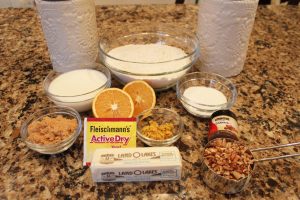 What you'll need for Orange Cinnamon Pecan Rolls
Yeast
Water
Flour
Milk
Egg
Salt
Butter
Pecans
Cinnamon
Brown Sugar
Oranges
Powdered Sugar
Vanilla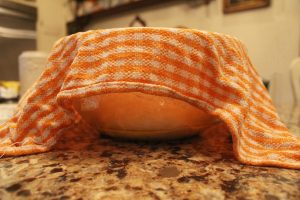 How to make Orange Cinnamon Pecan Rolls
In a large bowl, mix in yeast with warm water. Let sit for a few minutes
Next, add in warm milk, sugar, salt, egg and flour
On a lightly floured surface, knead dough for about 5 min until smooth
Place in a greased bowl, cover and let rise
In a medium bowl, combine filling ingredients until well mixed paste like consistence
In an additional medium bow whisk together softened butter, vanilla extract, milk, orange juice and slowly add in powdered sugar
For a thicker consistency add in additional powdered sugar until desired thickness
Once dough has risen, punch down, knead and roll into a rectangular shape
Spread filling evenly on the whole surface, then roll it up!
Cut into even pieces about 1 1/2  inches thick
Place pieces on a greased baking sheet or dish & cover for about 20 min then pop in the oven
You'll want to ice your rolls about 5 min after they come out of the oven
Let cool for an additional 5 min & Enjoy!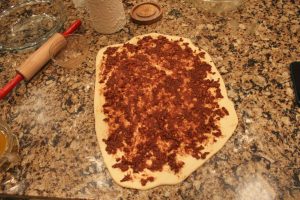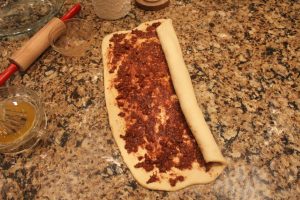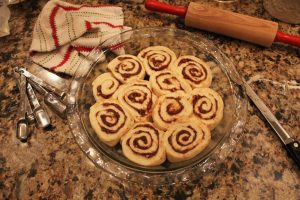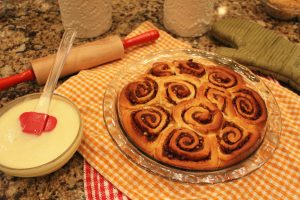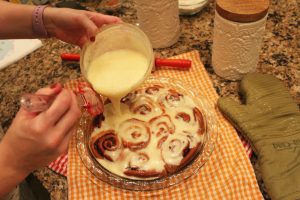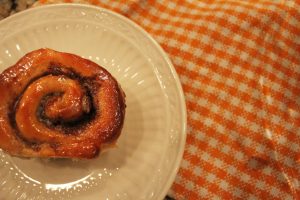 IF YOU MADE THIS RECIPE I'D LOVE TO KNOW YOUR THOUGHTS SO PLEASE LEAVE A COMMENT BELOW AND DON'T FORGET TO TAG ME ON INSTAGRAM @DAY_LILLY_
WANT ANOTHER SWEET RECIPE? CLICK ON THE LINK BELOW!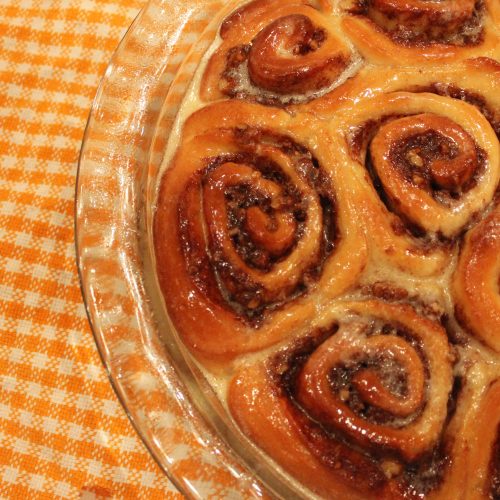 Orange Pecan Cinnamon Rolls
These Orange Pecan Cinnamon rolls are the perfect way to kick off your day! Gooey, fluffy with a slight crunch and warm orange icing
Ingredients
Roll
1

cup

Scalded Whole Milk

1/2

cup

Unsalted Butter

1/3

cup

Granulated Sugar

1

packet

Dry Active Yeast

(2 1/2 tsp)

2

Large Eggs

4

cups

All Purpose Flour

2

tsp

Salt
Filling
1/2

cup

Finely Chopped Pecans

1/4

cup

Brown Sugar

1

tbsp

Cinnamon

2

tbsp

Orange Zest

3

tbsp

Melted Butter
Icing
5

tbsp

Softened Butter

1/2

tsp

Vanilla Extract

1/2

cup

Orange Juice

freshly squeezed is best!

4

tsp

Milk
Instructions
Place milk in a small saucepan and bring to a boil, the moment it reaches a boil remove from heat. (This process ensures that the milk won't affect the yeast's ability to rise. DO NOT SKIP)

In a mixing bowl (your standing mixing bowl if using one) pour the milk and add in the butter. Stir until butter is melted

Once the milk is lukewarm add the yeast, stir around and let sit for 10 min. (Too hot of a liquid can kill the yeast)

Using the hook attachment if using standing mixer, mix together sugar, eggs and salt then slowly add in the flour. (If not using standing mixer you can use a regular whisk then start kneading with your hands once the dough gets thicker. Knead for approx. 4-5 min or the low setting with the standing mixer

Form dough into a ball in the bowl and cover with plastic wrap and a dish towel in a warm place for 90 minutes

In a medium bowl, combine filling ingredients until well mixed paste like consistence

In an additional medium bow whisk together softened butter, vanilla extract, milk, orange juice and slowly add in powdered sugar

For a thicker consistency add in additional powdered sugar until desired thickness

Once dough has risen, punch down, knead and roll into a rectangular shape

Spread filling evenly on the whole surface, then roll it up!

Cut into even pieces about 1 1/2  inches thick

Place pieces on a greased baking sheet or dish & cover for about 20 min allowing to rise a little more

Pop in the oven for 20-25 min

You'll want to ice your rolls about 5 min after they come out of the oven

Let cool for an additional 5 min
Notes
These Orange Pecan Cinnamon rolls are the perfect way to kick off your day! Gooey, fluffy with a slight crunch and warm orange icing