Chai coffee cake loaded with warm and cozy chai spices and topped with a spiced glaze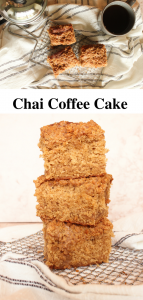 Chai Coffee Cake
This recipe is a deliciously moist yellow cake with chai spiced streusel in the middle and on the top that makes a perfect crisp. Every bite makes you want to go back for more. This goes without saying since it is a COFFEE cake but I'm telling you I've had coffee cakes before and nothing compares to the perfect pairing of a warm sip of coffee between bites of this cake. Having coffee with this chai coffee cake really and truly takes the flavor to the next level! Side note my favorite coffee is the CC's breakfast blend!





Chai
Chai is one of my FAVORITE things. I absolutely love chai lattes (with an occasional shot of espresso making it a dirty chai latte). I just love the mixture of spices and the aroma of a nice warm chai latte. The cinnamon, ginger, cloves, and cardamom really all come together and create a feeling like no other. Makes you feel all warm and fuzzy inside and want to sit by the fire on a nice cold day. Adding these spices to a coffee cake really takes the feeling to a whole new level!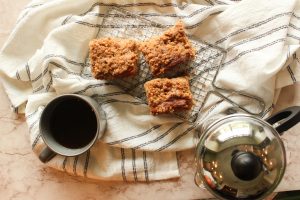 Ingredients for Chai Coffee Cake:
Cake
Eggs
Unsalted Butter
Milk
Vanilla Extract
Flour
Baking Powder
Granulated Sugar
Dark Brown Sugar
Salt
Cinnamon
Streusel Filling/Topping
Flour
Granulated Sugar
Dark Brown Sugar
Salt
Cinnamon
Ginger
Cardamom
Nutmeg
Clove
Butter
Spiced Glaze
Powdered Sugar
Milk
Cinnamon
Ginger
Cardamom
Nutmeg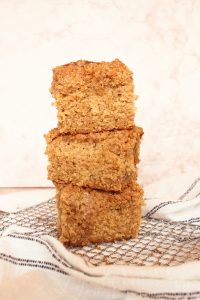 How to make Chai Coffee Cake:
Preheat oven to 350 degrees
For the cake, cream together butter and sugar then mix in eggs and vanilla
In a separate bowl mix together all dry ingredients
Slowly mix dry ingredients into the wet mixture then set aside
For the streusel, mix together all ingredients and set aside
In a greased or line pan 9×9 pan pour half cake mixture then half strusel mixture and repeat
Bake for 55-60 min
Mix together glaze ingredients and drizzle on top of the cake after it has cooled
Enjoy!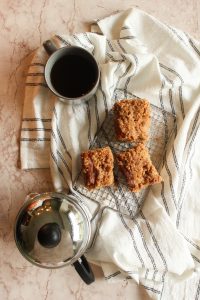 IF YOU MADE THIS RECIPE I'D LOVE TO KNOW YOUR THOUGHTS SO PLEASE LEAVE A COMMENT BELOW AND DON'T FORGET TO TAG ME ON INSTAGRAM @DAY_LILLY_
WANT ANOTHER FALL RECIPE? CLICK ON THE LINK BELOW!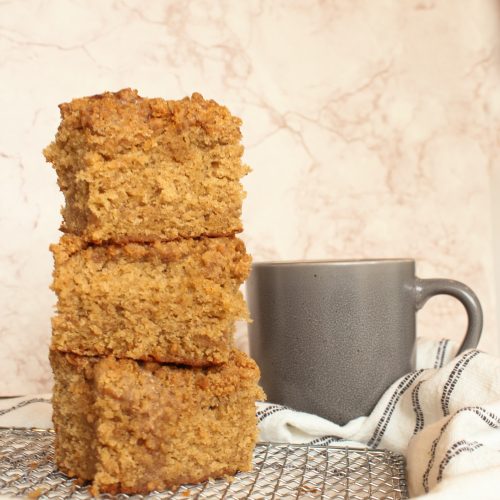 Chai Coffee cake
Chai coffee cake loaded with warm and cozy chai spices and topped with a spiced glaze
Ingredients
Cake
1/2

cup

Unsalted Butter

Softened

1/2

cup

Granulated Sugar

1/2

cup

Dark Brown Sugar

packed

2

Eggs

1

tsp

Vanilla Extract

2

cups

Flour

3

tsp

Baking Powder

1

tsp

Cinnamon

1

tsp

Salt
Streusel Filling/Topping
1

cup

Flour

1/3

Granulated Sugar

1/3

Brown Sugar

packed

1/2

tsp

Salt

1/2

tsp

Cinnamon

1/4

tsp

Ginger

1/4

tsp

Cardamom

1/4

tsp

Nutmeg

pinch

Clove

6

tbs

Unsalted Butter

melted
Spiced Glaze
1

cup

Powdered Sugar

1

tbs

Milk

1/4

tsp

Cinnamon

1/4

tsp

Ginger

1/4

tsp

Nutmeg

1/4

tsp

Cardamom
Instructions
Preheat oven to 350 degrees

For the cake, cream together butter and sugar then mix in eggs and vanilla

In a separate bowl mix together all dry ingredients

Slowly mix dry ingredients into the wet mixture then set aside

For the streusel, mix together all ingredients and set aside

In a greased or line pan 9x9 pan pour half cake mixture evenly coating the pan then half streusel mixture evenly coating the cake batter and repeat

Bake for 55-60 min or until golden brown on top

Let cake cool for around 20 min before icing

Mix together glaze ingredients and drizzle on top of the cake