Easy, perfectly spiced carrot cake with delicious creamy cream cheese icing.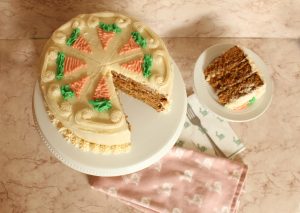 Carrot cake
Carrot cake is one of the most underrated cakes there is. When you think of cake you probably immediately think chocolate or vanilla or even almond (wedding cake). But you never hear people jumping to pick a carrot cake for their special occasion(except of course…Easter!) Don't get me wrong, the other flavors are delicious but I mean come on, carrot cake has got so much going for it!
With Easter right around the corner I figured it was the perfect time to go all out and make a great carrot cake recipe for you guys. When I took a bite of this cake it was perfectly moist, packed with spices and the velvety cream cheese icing really brought it all together.

The Carrots
I used whole carrots! I washed and peeled them and then grated them on my cheese grater. A week later I went to the store for an unrelated dinner recipe and bought some already shredded carrots and thought to myself wow I should have done this last week when I was making my cake! I think I may do that next time and might save myself a few steps. Although it really didn't take too much time to wash, peel and grate the carrots, just a thought!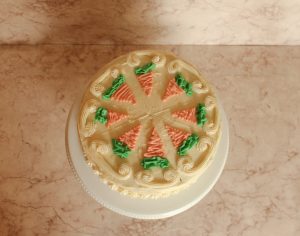 The Design
Any beautiful cake design wouldn't be possible without the help of our handy dandy piping bags and tips! For the colors I used Wilton Gel Icing Coloring.
Once I was done using the bulk of the icing for the tops and sides of the carrot cake, I divided the remainder into 3 bowls then added a little bit of coloring to each bowl until I was satisfied with the color. I put each color into a separate piping bag (the disposable ones are the best when using multiple colors so the clean up is less of a hassle).
Next, I chose the tips I wanted to use for each different color and made sure to test the design I had in mind on a plate before piping directly on the cake to make sure it was what I wanted to do!
Designs on cakes are not as intimidating as they might seem. It just take a little practice and playing around with to get the hang of it. The most important thing is to have fun with it and get creative because you never know if it will be your next master piece.(Also if you totally mess up its relatively easy to correct by just wiping away the icing and smoothing it over and restarting!)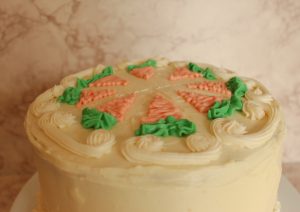 Ingredients you'll need for Carrot Cake
Carrot Cake
Flour
Baking Powder
Baking Soda
Salt
Brown Sugar
Granulated Sugar
Ground Cinnamon
Ground Nutmeg
Ground Clove
Ground Ginger
Eggs
Vegetable or Canola Oil
Vanilla Extract
Carrots
Coconut (optional)
Pecans (optional)
Cream Cheese Icing
Softened Butter
Cream Cheese
Vanilla Extract
Salt
Powdered Sugar
Gel food coloring (optional)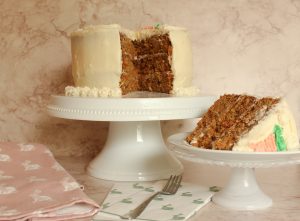 How to make Carrot Cake
Carrot Cake
Preheat oven to 350
In a large mixing bowl whisk together dry ingredients
In a separate bowl whisk together eggs, oil and vanilla extract
Slowly mix dry ingredients into wet ingredients
Once well incorporated add in carrots, coconut and pecans
Pour batter into greased pans
Bake for 30-32 min or until tooth pick comes out clean
Let cake cool completely before icing
Cream Cheese Icing
Cream together butter and cream cheese then add in vanilla extract and salt
Gradually add in powdered sugar and mix until smooth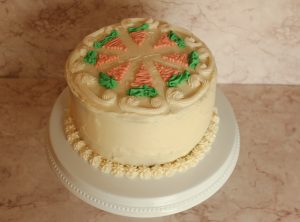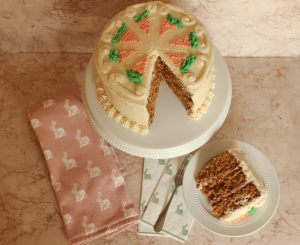 IF YOU MADE THIS RECIPE I'D LOVE TO KNOW YOUR THOUGHTS SO PLEASE LEAVE A COMMENT BELOW AND DON'T FORGET TO TAG ME ON INSTAGRAM @DAY_LILLY_
WANT ANOTHER SWEET RECIPE? CLICK ON THE LINK BELOW!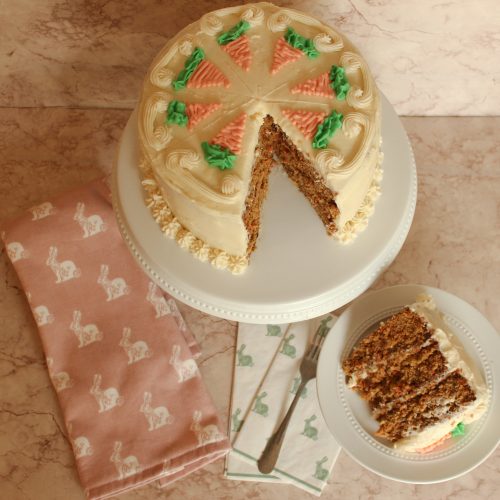 Carrot Cake
Equipment
9" Cake pans

Standing or hand mixer

Piping bags (optional)
Ingredients
3

cups

Flour

1

tbsp

Baking Powder

1 1/2

tsp

Baking Soda

1

tsp

Salt

2 1/4

cups

Brown Sugar

1 1/2

cups

Granulated Sugar

1

tbsp

Ground Cinnamon

1/2

tsp

Ground Nutmeg

1/4

tsp

Ground Clove

1

tsp

Ground Ginger

6

Eggs

1

cup

Veggie or Canola Oil

1

tbsp

Vanilla Extract

4 1/2

cups

Grated Carrots

1

cup

Shredded Coconut

Optional

1

cup

Chopped Pecans

Optional
Cream Cheese Icing
1.5

cups

Softened Butter

3 sticks

24

oz

Cream Cheese

3 8 oz packages

1

tbsp

Vanilla Extract

1

tsp

Salt

12

cups

Powdered Sugar
Instructions
Carrot Cake
In a large mixing bowl, whisk together flour, baking powder, baking soda, salt, brown sugar, granulated sugar and all of the spices

In a separate bowl, whisk together eggs, oil, and vanilla extract

Slowly mix dry ingredients into wet ingredients

Once it is all combines stir in carrots, coconut and pecans (if you chose to use them)

Separate batter into three circular 9" greased cake pans and smooth out evenly with spatula

Bake cakes for 30-32 min or until a toothpick is inserted and comes out clean

Remove cake and let cool completely before icing
Cream Cheese Icing
With a hand or standing mixer, cream together butter and cream cheese until smooth then add in the vanilla and salt

Gradually add in powdered sugar one cup at a time and stopping to scrape the sides of the bowl
Assemble and Decorate
Using a large serrated knife, slice a thin layer off the tops of the cakes to create a flat lay surface

Evenly cover the top of one layer of cake, stack the next layer and repeat

Spread half of the remaining icing evenly around the top and sides of the cake, saving the rest for decoration if you desire

I separated the remaining icing into three bowls and used green and orange gel food coloring for the carrots and leaves and used piping bags to decorate!