Simple homemade chicken pot pie with perfectly butter crust and the creamiest filling.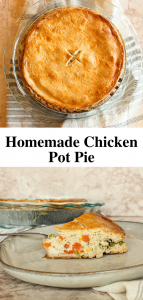 Chicken Pot Pie
Pot pies are a crowd favorite in my household. We always have some store ought frozen ones on nights when we don't feel like cooking. I had a lot of fun creating one for myself and it was honestly the best tasting pot pie I've ever had! This recipe makes two pies so you can eat one now and save the other one for a busy night to just pop in the oven. I like to save a little bit of time by buying frozen pie crusts instead of making my own. Although I still like to make the top crust myself! I use these Mrs. Smith's Pie Crusts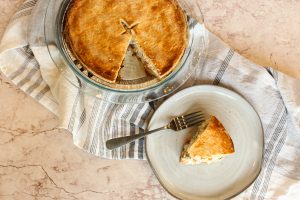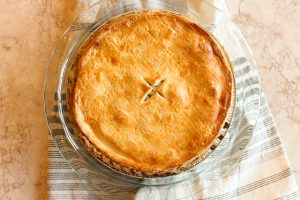 Chicken or Turkey?
Of course chicken is the classic but its also a great recipe to make with your thanksgiving leftovers! I made this pot pie after Thanksgiving last year so I used our leftover turkey! If you are craving this delicious pot pie but don't have a leftover turkey on deck, the best quick alternative in my opinion is to go grab a rotisserie chicken from your local grocery store! Some grocery stores may even have a lemon pepper or garlic rotisserie chicken which great way to infuse some flavor into your pot pie. I had enough turkey to make two pies after Thanksgiving and those things went quick!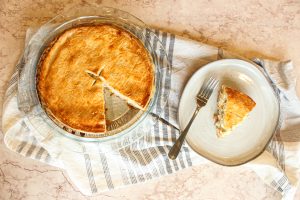 Ingredients you'll need for Turkey Pot Pie
Chicken breast
Butter
Yellow Onion
Carrots
Celery
Garlic
Flour
Heavy Cream
Chicken broth
Frozen Peas
Corn
Olive Oil
Parsley
Thyme
Garlic Salt
Rosemary
Basil
Salt/Pepper
Pie crusts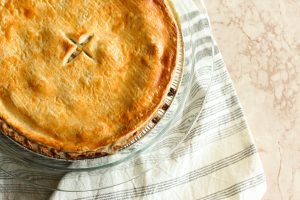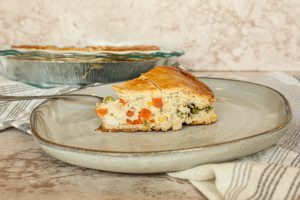 How to make Turkey Pot Pie
First cook your chicken if you haven't already. I like to get chicken breast and season with salt/pepper and bake for 25-30 min at 350
Chop all veggies and set aside
Next we will be making the top crust by combining flour, sugar salt and cold cubed butter
Kneading together with hands until the butter is incorporated into the flour, add heavy cream if the mixture becomes too dry
Ball up the mixture and place in a covered bowl in the refrigerator for about 15 min to chill the butter
Remove pie crusts from the freezer and follow directions on package
Start cooking the chopped veggies in butter then add in the parsley, frozen peas and corn, stirring occasionally
Add in all seasoning, chicken broth, heavy cream then whisk in flour until there are no lumps
Let simmer about 10 min until thickened
Stir in shredded chicken and remove from heat
Preheat oven to 400
Once the pie crusts have been cooked fill each one with the filling
Remove top crust out of refrigerator and divide into two even balls and roll them out and cover each pie
Brush tops of pie crusts with egg yolk and heavy cream
Place both pies on a large baking sheet and bake for 45 min or until the crust is golden brown.
Let cool for about 15 min, slice and enjoy!
*If freezing, let pie cool completely, cover it and you can freeze for up to 1 month!*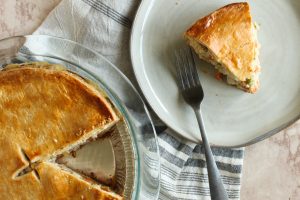 IF YOU MADE THIS RECIPE I'D LOVE TO KNOW YOUR THOUGHTS SO PLEASE LEAVE A COMMENT BELOW AND DON'T FORGET TO TAG ME ON INSTAGRAM @DAY_LILLY_
Want more recipes? Click on the links below!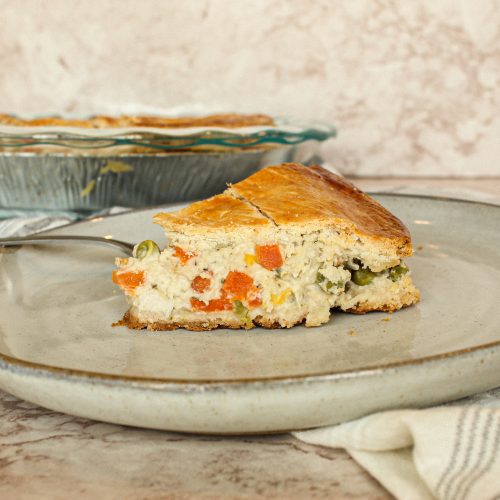 Chicken Pot Pie
Simple homemade chicken pot pie with perfectly butter crust and the creamiest filling. 
Ingredients
Top Pie Crust
2

cups

Flour

1

tbsp

Sugar

1

tsp

Salt

Heavy Cream

if too dry when kneading, also for egg wash

1

Egg Yolk

for egg wash
Chicken Pot Pie Filling
2

Frozen Pie Crusts

3

Large Chicken Breasts

shredded

6

tbsp

Unsalted Butter

1

Yellow Onion

3

medium

Carrots

6

cloves

Garlic

3

stalks

Celery

1

cup

Frozen Peas

1

cup

Frozen Corn

1/4

cup

Fresh Parsley

1

tsp

Garlic Salt

1

tsp

Rosemary

1

tsp

Basil

2

tsp

Salt

2

tsp

Pepper

2

cups

Chicken Broth

1/2

cups

Heavy Cream

1/3

cup

Flour
Instructions
First cook your chicken if you haven't already. I like to get chicken breast and season with salt/pepper and bake for 25-30 min at 350

Chop all veggies and set aside

Next we will be making the top crust by combining flour, sugar salt and cold cubed butter

Kneading together with hands until the butter is incorporated into the flour, add heavy cream 1 tsp at a time if the mixture becomes too dry

Ball up the mixture and place in a covered bowl in the refrigerator for about 15 min to chill the butter

Remove pie crusts from the freezer and follow directions on package

Start cooking the chopped veggies in butter then add in the parsley, frozen peas and corn, stirring occasionally

Add in all seasoning, chicken broth, heavy cream then whisk in flour until there are no lumps

Let simmer about 10 min until thickened

Stir in shredded chicken and remove from heat

Once the pie crusts have been cooked fill each one with the filling

Remove top crust out of refrigerator and divide into two even balls and roll them out and cover each pie

Brush tops of pie crusts with egg yolk and heavy cream

Place both pies on a large baking sheet and bake for 45 min or until the crust is golden brown.

Let cool for about 15 min, slice and enjoy!

*If freezing, let pie cool completely, cover it and you can freeze for up to 1 month!*